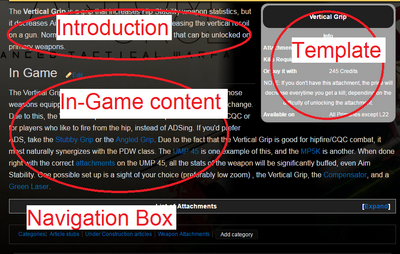 This page shows what the buttons are. Mostly, this can be used for new Editors and Contributors.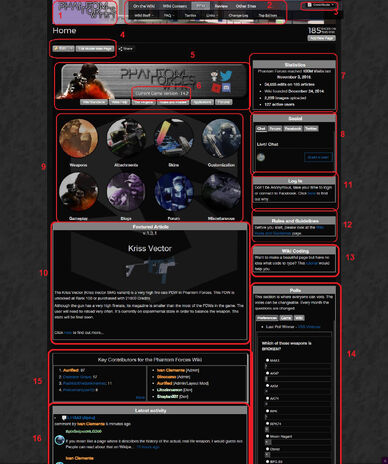 Phantom Forces Wiki Logo - clicking this will lead you to main page.
Top Navigation - This navigates the pages of PFW.

On the Wiki - This section shows the content of the wiki. We have 7 kinds inside on "On the Wiki"

Wiki Activity - Shows the whole activity of the content.
Random Page - When you click this any page will be opened radomly.
Videos - Library of Videos. It shows all videos created and who they are created by.
Photos - Library of Photos. It shows all pictures created and who they are created by..
Chat - You can talk with active contributors.
Forum - You can reply discussopns of our contributors.

Wiki Content - this section is shows info about the wiki. We have 4 "Wiki Contents"

Recent Changed Pages - shows all recent edits from pages.
Weaponry - shows all list of weapons available on Phantom Forces.
Attachments - shows all list of attachments available on Pahntom Forces
Maps - shows all list of maps available on Phantom Forces

PFW - This section shows additional pages that you need to see! We have 5 "PFWs"

Wiki Staff - shows all staff from the wiki.
FAQ - Frequently Asked Questions for short. Shows are answers where most players asked.
Tactics - these are tips/strategies posted by staff or contributors to help you at battle.
Links - these links where you can see pages related to the wiki.
Change Log - Official log for updates.
Top Editors - List of most contributed users for last 7 days.

Review - This section where we need our help. We have 5 "Reviews"

Projects - This page where this wiki comes together to organize and discuss the projects of the wiki.
Popular - List of most edited page in the wiki at descending order.
Recent - List of most recent edited page in the wiki.
Browse - List of other pages that a new user doesn't know.
Special Pages - this where the staff need to watch and pages need help.

Other sites - related external sites related to the wiki.

Phantom Forces Stories Wiki - Make stories and share!
Phantom Forces Tactics Wiki - Make tips/guides!

Contribute - This also an another way to contribute to the wiki.
Title & Edit Button - this where you can see the name of an article and use it top edit the page.
Mainpage Portal - shows current version of the game, links related to the game, and different sections of the wiki.

Current Version - The current vesion of the game; changes when the is an update.

Statistics - This info, you can see the creation of the wiki, all apges, edits and photos uploaded.

Social - You can use this by communicating each other.

Chat - You can chat on the wiki
Forum - You can reply to discussions
Facebook - You can see here the updates on Stylis Studios on Facebook.

Navigation - Shows and leads you to a useful page.
Featured Article - Latest information about the newest update of the game.
Registration - This is the answer why we need to log-in.
Rules and Guidelines - This is an essential for new editors to know what is prohibited and what is permitted.
Wiki Coding - This is useful for accessing complicated templates and commands.
Polls - Vote. There are 3 sections on polls

Article of the Month - Vote to this section to post it on #16.
Game - Survey/questions about the game
Wiki - survey/questions about the wiki

Key Contributors - shows list of dedicated users who edit the wiki.
Latest Activity - Shows all recent edits or comments by users.
Your Account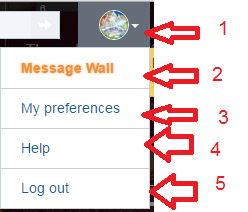 Avatar - to see what account is signed in
Message Wall - to see your messages on your account
My Preferences - to see your contributions and your settings
Help - to help you in contributing
Log-out - to log-out your account.
Weapon Pages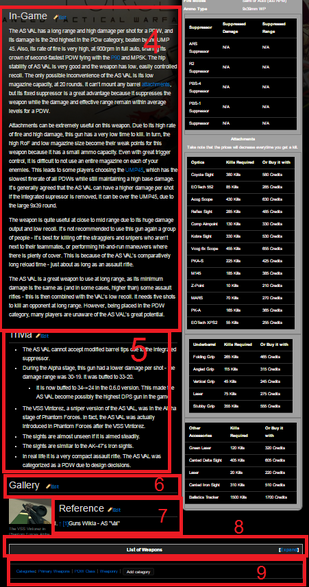 Information - You can see here the name, edit button and number of pages on this wiki.
Infobox - Information of a weapon

Weapon Type - Primary or Secondary
Weapon Class - shows that weapon is classified as.
Rank Prerequitsities - shows what rank is required to unlock the gun
Or buy it with - if the player didnt reach that rank, the player can buy the weapon. Shows initial credits.
Damage and Range - shows stats of the weapon on damage and range
Suppressed Info - shows reduced amount of damage and range on every suppressors/
Attachments - shows all list of attachments available on the gun.

History - shows a backstory about the gun in reality.
In-Game - shows some tips/inspection about the gun.
Trivia - facts about the gun.
Gallery - some screenshots or videos about the gun
Reference - links where the info on history is gathered.
Navbox - shows all list of weapons
Category - shows categories on the gun.
Forum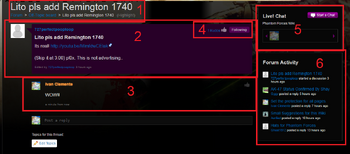 Title - name of the discussion
Discussion - you can see his/her posts
Reply - opinions or reactions about the topic.
Kudos - you can like the discussion or like it.
Chat - communicate with other users.
Forum Activity - shows recent posts or discussions.
Ad blocker interference detected!
Wikia is a free-to-use site that makes money from advertising. We have a modified experience for viewers using ad blockers

Wikia is not accessible if you've made further modifications. Remove the custom ad blocker rule(s) and the page will load as expected.