The
Sniper Scopes
are the scopes attached scope on sniper rifle by default.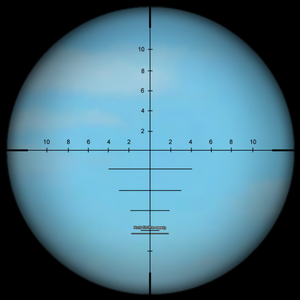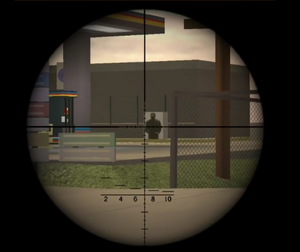 Characteristics
The default scopes have a very high magnification. (10x) They are designed to use at to long to extreme long range. Generally, the scopes are suitable for every player. However, there are many people who don't like the default scopes and they prefer other optics over them.
The reticle:
There is currently 3 different reticles. There is the SVD (Dragunov SVU) type recticle, Intervention/BFG 50 recticle, and the Remington 700's recticle.
The magnification:
The different type of sniper scope has the different zooming capacity. Currently, the SVD type has lower magnification than the regular one.
The Regular one has a x10 zoom.
The Mil-dot scope is unavailable in the current game.
The 6x VCOG, which is generally considered a replacement for the default scopes or a substitute for weapons without the Sniper Scopes, still has less magnification than the Sniper Scopes.
Gallery
Trivia
The SVU scope is not the PSO-1 scope, it can only be considered as a SVD style scope:

The PSO-1 has only x4 magnification, while the SVU scope has a significantly higher magnification than the VCOG, which is x6 zoom.
The reticle is used on many other ex-soviet optics, they are not necessarily a PSO-1 scope.
There are many scopes that resemble to the PSO-1, like the PSOP series from Belarus. They are physically resemblance, can use the same reticle and have many choices of magnification, BUT THEY ARE NOT A PSO-1.

Sometimes when you zoom in with a default scope, your screen may turn black for a couple of seconds. If it lasts for more than a few seconds, try again.
Ad blocker interference detected!
Wikia is a free-to-use site that makes money from advertising. We have a modified experience for viewers using ad blockers

Wikia is not accessible if you've made further modifications. Remove the custom ad blocker rule(s) and the page will load as expected.