| | | | |
| --- | --- | --- | --- |
| | | | |
| Weapons | Attachments | Skins | Customization |
| | | | |
| Gameplay | Blogs | Forum | Miscellaneous |
Featured Article
v.1.3.1
Kriss Vector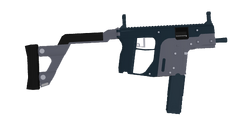 The Kriss Vector is an American Personal Defense Weapon.The Kriss Vector is unlocked at Rank 100, or can be purchased with credits (CR).

Although the Vector has a very high rate of fire, its magazine is smaller than most similar weapons in the game. This means the user has to reload very often when using it.


Click here to find out more...
Key Contributors for the Phantom Forces Wiki
ROBLOX Wikias

Statistics
Phantom Forces reached 100M Visits last November 3, 2016.
36,272 edits on 179 articles
Wiki founded December 24, 2014.
2,290 images uploaded
101 active users
Log In
Don't be Anonymous, take your time to login or connect to Facebook. Click here to find out why.
Wiki Coding
Want to make a beautiful page but have no idea what code to type? This tutorial would help you.
Polls
This section is where everyone can vote. The votes can be changeable. Every month the questions are changed.

Which of these weapons is BROKEN?

 

What will be the category for next poll?

 

What is your secret to being a pro?

 

What should developers take action first?

 

Should the developers make this as the official wiki for Phantom Forces?

 

What's your reason of visiting the wiki?

 

Which of these should be changed/added in the wiki?

 
Other Notes
Photos and videos are a great way to add visuals to your wiki. Find videos about your topic by exploring Wikia's Video Library.
Ad blocker interference detected!
Wikia is a free-to-use site that makes money from advertising. We have a modified experience for viewers using ad blockers

Wikia is not accessible if you've made further modifications. Remove the custom ad blocker rule(s) and the page will load as expected.