This page is UNDER CONSTRUCTION

Please excuse its informal appearance and insufficient info while it is being worked on. We hope to have it completed as soon as possible! Remember to cite your sources if you add new information to pages about upcoming content or it will be removed without notice.
EOTech XPS2

Info

Attachment Type
Optics
Kills Required
55 Kills
Available on
All Primary Weapons

The EOTech XPS2 is an optical attachment. The EOTech XPS2 requires either 55 kills or 255 credits (CR) to unlock.
History
The EOTech XPS2 is the smallest, most compact optic that EOTech has to offer. It is often used by hunters and law enforcement.[1]
In-Game
The EOTech XPS2, being the sister attachment to the EOTech 552, is very similar to the EOTech 552. The only differences from the EOTech 552 are the reticle, which is smaller, less obstructive, and lacks the bullet drop diagrams; the number of unlock kills (55 compared to EOTech 552's 85); and the zoom level. The EOTech XPS2 has a zoom level that is slightly larger (2.5x) than the EOTech 552's (2x).
This attachment is preferably used at close-to-mid range, due to its low zoom level. If the player uses it at long range, he may need to compensate for bullet drop more severely (once again due to the low zoom level).
Pros and Cons
Pros:
Low amount of kills required to unlock (55)
Low zoom provides less camera recoil
Cons:
Has a bulky, obstructive frame
Not good for sniping (barely any zoom)
References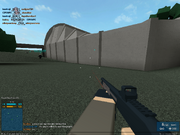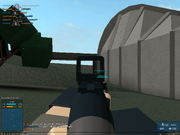 Ad blocker interference detected!
Wikia is a free-to-use site that makes money from advertising. We have a modified experience for viewers using ad blockers

Wikia is not accessible if you've made further modifications. Remove the custom ad blocker rule(s) and the page will load as expected.