Uh oh. This page is a STUB

You can help Phantom Forces Wiki by expanding it or improving existing text.
Comp Aimpoint

Info

Attachment Type
Optics
Kills Required
130 Kills
Available on
Assault Rifles, LMGs, Sniper Rifles, Carbines, Marksman Rifles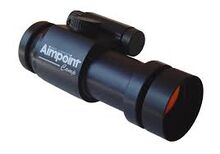 The Comp Aimpoint is a Swedish optic in the game. It requires 130 kills to unlock the attachment or can be unlocked with Credits (CR).
History
Manufactured by Aimpoint AB, the Comp Aimpoint (likely based off of the CompM2) is a non-magnifying red dot reflex sight for firearms. It is designated the M68 CCO by the US Armed Forces, and can currently be found on countless rifles in service with the U.S. It was designed to be compatible with the M16/M4 rifle family but can be attached to any weapon with a Picatinny rail. The sight's red dot is NVG-compatible, meaning that it can be seen through night vision instruments.
Usage
The Comp Aimpoint is another red-dot sight optic that gives you more aim stability and less accuracy, although it has a more positive effect on accuracy than sights like the Coyote or the Kobra sight. Shooters can treat them as normal red-dot sight. The description, shown above says "offers superior situational awareness by un-cluttering the surrounding FOV". It means it is less obstructive than other sights and allows the user to look around their peripheral vision much better than, say, a 6x VCOG.
This optic is preferred for use at mid-close range because of its 1x magnification, decent field of view, lesser aim sensitivity, thick red-dot and relatively thick frame, which is still thinner than high-zoom optics like the ACOG and PK-A. However, this weapon can find some use at long-range on certain weapons, thanks to its lower aim sensitivity and decent accuracy. This optic is best for weapons which have low, controllable recoil, although the thin frame and mid-range magnification make this sight a highly versatile optic attachment to use.
Trivia
The US Army has bought 1,000,000 M68 CCO's and issued 85% of Army M4 rifles with them.
Realistically, the Comp Aimpoint's non-magnifying design allows for the user to keep both eyes open for situational awareness while still superimposing the red dot in the user's vision.
Ad blocker interference detected!
Wikia is a free-to-use site that makes money from advertising. We have a modified experience for viewers using ad blockers

Wikia is not accessible if you've made further modifications. Remove the custom ad blocker rule(s) and the page will load as expected.