This piece of content is PERMANENTLY removed.

This is forever removed from the game and will NEVER see light again and will stay in the dark corner. It must be FULLY confirmed before you say it's removed from the game.
Uh oh. This page is a STUB

You can help Phantom Forces Wiki by expanding it or improving existing text.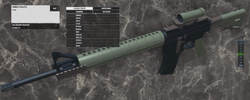 The C7A2 was a Canadian assault rifle. Most information about the C7A2 has been lost.
History
The Colt Canada C7 Service Rifle is a Canadian assault rifle, manufactured by Colt Canada (formerly Diemaco prior to 2005), a variant of the Armalite AR-15, and having similar design and function to the Colt M16A3.
The C7 and its variants have been adopted as the standard issue rifle by the militaries of Canada, Norway (Special forces only), Denmark and the Netherlands. Following trials, C8 variants are general issue firearms for the United Kingdom's Special Forces and other specialist users within the British military. It has been utilized in various combat deployments by Canadian, British, Norwegian, Dutch and Danish Forces in Afghanistan and Iraq.[1]
In-Game
The C7A2 was one of multiple weapons in Phantom Forces, however it would only live for the demo phase.
It was removed the same day Phantom Forces entered its beta phase.
References
Ad blocker interference detected!
Wikia is a free-to-use site that makes money from advertising. We have a modified experience for viewers using ad blockers

Wikia is not accessible if you've made further modifications. Remove the custom ad blocker rule(s) and the page will load as expected.